Veeam Cloud Connect
Finally, a complete cloud-based backup solution
Ensure your data is backed up, secure and easily available with Veeam Cloud Connect
Veeam Cloud Connect allows users of Veeam 8+ to assign Tier II storage as a repository for off-site data vaulting and backups. This allows you to keep a scheduled or continuous backup of your virtualized machines on MIDAC's cloud infrastructure.
Once backed up, you can restore individual files or whole virtual machines back to their local environments when needed. With three strategic data centers, you can be sure that your data is kept safe, secure and in Canada.
Simpler and easier than a VPN
Veeam Cloud Connect removes the two main hurdles that such a service required in the past: VPN Tunnels, and dedicated repositories. VPN is not easy to be configured automatically, and usually requires an interaction between the service provider and the customer.
With Veeam Cloud Connect, the connection will happen directly over the Internet, using a single TCP port, protected by SSL encryption. This is achieved through a new Veeam component called the 'Cloud Gateway', which is responsible for the encapsulation of all the backup traffic inside the SSL tunnel.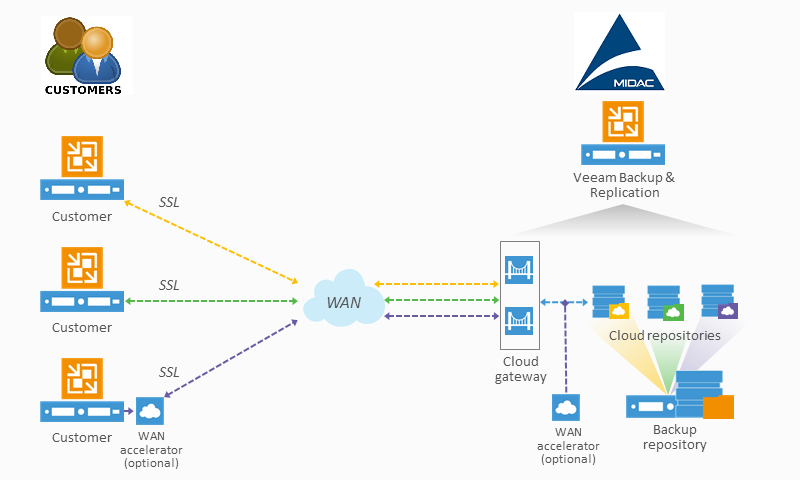 Why MIDAC Solutions?
30+ years of experience in the industry
Hosted completely in Canada
3 data centers located across Canada
Partnerships with Veeam, Lenovo, Microsoft, ThinkOn, and many others
Veeam Gold level partner
End-to End 256 bit encryption
WAN acceleration available
Why Veeam?
Market leader in virtualized backups
Allows for restores small files to bare metal backups
Complete visibility and access to your data
Utilises deduplication and data compression
Over 120,000 customers worldwide
Verified protection with SureBackup and SureReplica
Delivers RTPO of less than 15 minutes
Rest easy knowing your data is backed up and accessible in an emergency